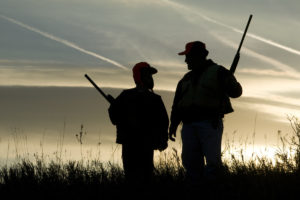 Hunting is a way of life for many people in Kansas, and something that all of us have a God given right to do. Many people in our state enjoy hunting for birds and deer as a hobby, as do I. I'll always vote to defend hunting and defend the 2nd Amendment. I would at least like to look into the possibility of changing our state's deer hunting laws. Kansas only has a week and a half long rifle season for deer, and many states have a much longer season. I think we should at least look into extending the season. One option would be to only extend it for land owners or for those who live in Kansas.
I would like for our state's hunting laws to preserve private property rights as much as possible. There are some land owners who would simply like to shoot and kill a deer on a more regular basis in order to feed their family. If we were to allow land owners to hunt for deer over a longer period of time, that policy could be accomplished without extending the deer season for those out of state.
Ultimately, if elected to the state legislature I would still want to research the issue, and I would want to make sure that our state's hunting laws are based on sound statistical evidence. Our state's hunting laws absolutely shouldn't be influenced by lobbyists. I will also seek advice from those who are experts when it comes to hunting and state law concerning hunting, as I want to get different perspectives and listen to those who have in depth knowledge of the issue.